• Melissa Sulley • Grief • Loss • Parenting after loss • Pregnancy + Infant Loss • Resources
Our family is no stranger to grief. In the past 5 years we've experienced 7 miscarriages (most within the second trimester), the death of my grandmother, and the sudden death of my husband's father. My son still cries out for his Papa and will often make comments about wanting to die so he can see him.
I need you to know, my 6 year old son is not suicidal. He is processing his grief. We have chosen not to shield our children from the reality of death, but rather normalize talk around death and dying.
---
• Melissa Sulley • Anti-Racism • Parenting after loss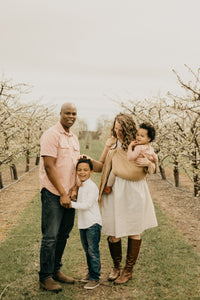 I sat my kids down today and we spoke about George Floyd and Regis Korchinski-Paquet. We talked about how there are good people and bad people in the world, and sometimes bad people will do harmful things to people with skin the colour of theirs.⠀ We talked about how there are good police officers (some being personal friends) and how there are bad police officers who abuse their power.⠀ We talked about why we won't let them play with toy guns, even brightly coloured nerf ones, because simply put... they don't have the same privilege as white kids.⠀ We mentioned...
---
• Melissa Sulley • faith • Grief • Loss • Miscarriage Awareness • Motherhood • Parenting after loss
This past decade has been extremely painful and beautiful; full of grief and joy.   I graduated university. Left my church. Moved cities. Had my heart broken. Lost friends.   I fell in love with Hamilton. Found a new church. Made new friends.   I discovered the Holy Spirit. Lost my faith. Discovered new expressions of faith. Left the church again.   I became a wife and a mother.   I birthed both life and death.   I broke up with myself as I learned how to parent, and learned how to parent after loss, again and again and again....
---
• Melissa Sulley • Grief • Guest Post • Loss • Parenting after loss • Pregnancy and loss awareness • Support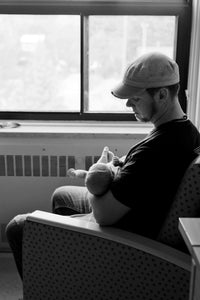 Three years ago, I joined the shittiest club in the world. I thought this club would make me "better." You know, heal all the wounds I had experienced; whatever that means. I'm getting ahead of myself though - you see, three years ago we lost a child. We already had two healthy, alive children, and we weren't expecting anything different with this one either. My wife was eight days overdue with our third, and we were prepared. The kids were ready, the room and crib were prepared, the holy-shit-it's-time-hospital bag was packed and ready to go. We were ready. Until...
---
• Melissa Sulley • Grief • Loss • Miscarriage • Miscarriage Awareness • Parenting after loss
My grief had become unbearable. Pushed down and ignored, it came to a bubbling point after our 'rainbow baby' arrived. This was supposed to be a joyful time, wasn't it? I was supposed to be happy and ecstatic that our 'rainbow' was finally here. Wasn't she supposed to wipe all the grief away? Heal the pain of our previous losses?Instead of joy, and delight, and gratefulness, I was drowning in fear, and anger, and guilt. As I held my screaming newborn I would dose off in daydreams, finding myself running away to far away places or driving my car off...