• Melissa Sulley • Anti-Racism
The past couple of months, the Black Lives Matter movement and Anti-Racist Education has come to the forefront of social media due to the recent deaths of George Floyd and Breonna Taylor in the US and Regis Korchinski-Paquet here in Canada.  For the past couple of years, I've been quietly engaging with Anti-Racist Education and learning more about my privilege as a white cis woman.  These recent events made me more aware of how I need to use that privilege, not just in my own personal life, but in my business to speak and act in ways that advance equity...
---
• Melissa Sulley • COVID-19
Hey Friends! I want to thank you so much for your continued support during these uncertain times. When COVID-19 hit I was unsure what to expect when it came to my small shop, but your continued support has kept me going and I am extremely thankful for that! A few things to keep in mind during this global pandemic: Workplace Cleanliness All handcrafted products are prepared and packaged in a clean and sanitized work environment. Slippers, DIY kits, and cards are packaged by only me (Melissa), and I am regularly washing my hands and I am healthy/symptom free. Our Arc...
---
• Melissa Sulley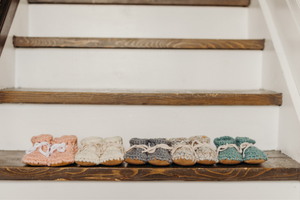 Our SS20 Collection is bound to be your new fav! Droppin' in the shop Thursday April 9th at 8pm EST.  All booties will be ready to ship within a week of purchase!   Our SS20 Leather Collection is tightly knit with a shorter, detailed ankle, allowing for optimal airflow during the warmer months.  As always, they are made with 100% natural sheepskin lining, which helps regulate body temperature, keeping feet cool in the spring/summer, and warm in the fall/winter.  Available in 5 colours:  Dusty Rose, Ecru, Slate, Fossil, and Succulent.  These spring earthy tones are bound to match any outfit!...
---
• Melissa Sulley • Knit Booties • New Product • Shop Update
 I made a giant leap and hired a knitter! Chantale has been working tirelessly and ever so patiently with me and my 50 bajillion ideas to create these absolutely beautiful, adorable, and oh my gosh so delicious I want to eat them, Knit Bobble Booties! Available in three colours (Copper, Grey, and Cream) and in two sizes (0-6m and 6-12m), these Knit Bobble Booties will be dropping in the shop Tuesday March 10th at 8:00pm EST. As always, these booties are 'Handcrafted with Heaven Babies in Mind' as a way to honour all babies gone too soon. Hope you become...
---
• Melissa Sulley • Christmas Order Dates • FW'19 • News
Due to the slow, handmade nature of our booties, we will only be taking a limited number of online bootie orders this season.